Puppies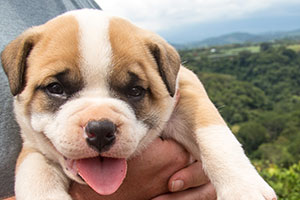 Spot and Treasure are proud to announce their wonderful litter of puppies, born on August 29, 2014. There are currently Three male puppies available. They are de-wormed, vaccinated and ready to go home to the right family. This is a great opportunity if you are in Costa Rica and looking for a top quality home defense dog, ranch dog, hunting dog, or just a great family dog.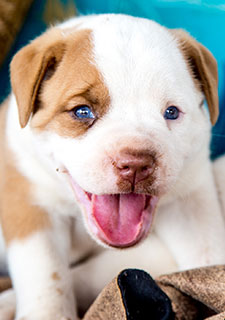 We obtained our dogs directly from the founder of the breed himself. Alan Scott escaped from the cold Alabama winter to bring us our 100% Scott performance bulldogs. Mr. Scott's dogs that maintain the same sound structure, health, courage and tenacity of the original old southern bulldogs he began to work with over 40 years ago.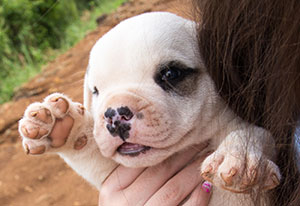 The Scott or Standard Performance American Bulldog is a dog bred strictly for performance. In Alabama they are relied on to chase down and catch wild hogs that significantly outweigh them. To perform this kind of work they need to be able to run fast, breath freely, bite hard and never give up. This has created a dog that lives a long, healthy life and is always ready to serve its owner as a guard, hunting companion and friend.
To our knowledge, ToughDog American Bulldogs is the only breeder of genuine Scott Performance American Bulldogs in Costa Rica. Click on the links above to learn more about the breed, our dogs, and our currently available litter of pups.